PLAN YOUR VISIT
We Can't Wait to Meet You
BEFORE YOU ARRIVE
What time are the services?
Our congregation meets at 9 and 10:30 a.m. on Sunday mornings. Both services are identical, and we offer age-appropriate programming for children from birth through high school during the 10:30 service. We also offer a livestream on Sunday mornings at 9 a.m.
We have a casual environment. There is no dress code when we get together; we just come as we are. Some wear shorts, while others wear suits. No matter your attire, God still is working in our lives and we invite you to join us. 
How do I let you know we're coming?
Please take a moment and fill out the "First Visit" form  as far as you are comfortable. This will help us make sure we are ready to make your first time with us amazing.
PLUS – if you fill this out we will have a free gift ready for you: a coffee mug and a Starbucks gift card.  THANKS!
WHEN YOU ARRIVE
We are located at 5555 Ward Road in Arvada, just south of Van Bibber Open Space.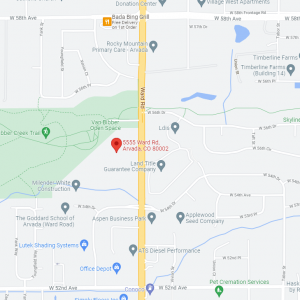 Click the map to access a Google Map link.
We have plenty of free parking around our building, with several special "visitor" parking spots on the west side closest to the building. Once you get into the upstairs lobby there is a Welcome Desk where someone can help answer any of your questions. 
What are your COVID-19 protocols?
As a church, we care deeply about the safety of our ACC family. Please visit our COVID-19 page to learn about our current precautions.
During the 10:30 a.m. service, we offer programming for children from birth to 5th grade, staffed by loving people who know what it takes to keep kids engaged while teaching them age-appropriate Biblical lessons. The baby and toddler rooms are upstairs, while preschool-5th grade meets downstairs. From the main lobby, take the stairs or elevator down. In the basement lobby you will find a check-in area for children's programming, or simply stop by our Welcome Desk and a friendly volunteer will direct you and your kids to the areas designed just for them!  
Children are also welcome to join you in the worship service. If your little one needs to wiggle, we have a special room with windows in the back of the Sanctuary so you can watch the service while attending to their needs. 
Our middle and high school students have their own gathering on Sunday mornings at 10:30 in the youth room, located downstairs. 
What is your worship like?
Worship at both of our services are identical and led by a band. The worship gathering is designed to be meaningful for multiple generations and invite those inside and outside of our community to experience the love of God. Our worship gatherings are stylistically modern while also including responsive readings, moments of reflection and updated hymn arrangements. We gravitate towards music that is singable, musically compelling and theologically rich.
Our services last approximately one hour.